EOS
Reliable, effective and 24×7 lantern solutions for rural areas
The EOS series of solar portable lanterns by Solar Hitech provides sustainable lighting to people without access to electricity. Our solar lanterns are a cheap and cost-effective way to bring lighting to places where reliable lighting is yet to be available.
Features
Smart battery management system with battery charging, low battery/load cut-off indications
System components with built in reverse polarity, battery over-charge/deep discharge, over load and short circuit protection.
Conformal coated PCB with rugged-solder free connectors.
Constant current LED Drivers.
Components
PV Solar module – 5 Wp and 10 Wp variants.
High efficiency LED Lamps – 3 W and 5 W variants
Sealed batteries : 4.5 Ah and 7.2 Ah
Mounting and cable accessories
Technical Specifications
| Model |  Load | PV Module | Battery | Autonomy Backup |
| --- | --- | --- | --- | --- |
| ES-1 | 3W LED | 6V, 5 Wp | 6V, 4.5 Ah | 3-4Hrs / 3 Days |
| ES-2 | 5W LED | 12V, 10Wp | 12V, 7.2Ah | 3-4Hrs / 3 Days |
*Other customized models available on request and as per requirements
Benefits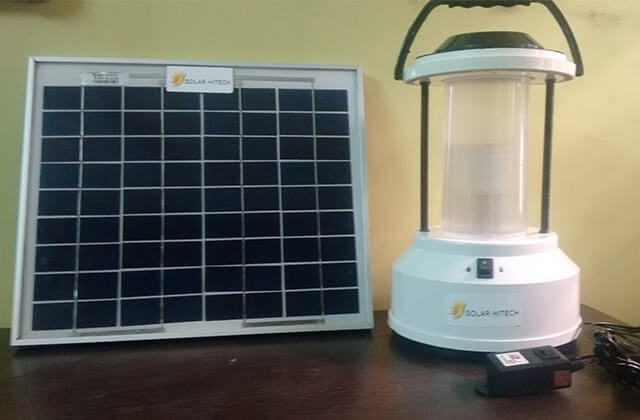 Long life and durable for year round use
Extremely safe with no dependence on grid or kerosene for power
Continuous, flicker free light up to 16 long hours
Saves up to Rs 4,000 per year on kerosene consumption.
Warranty Support/Maintenance

25 years performance warranty on PV modules

Standard 1 year warranty on other components

Extended warranty available on request
GET IN TOUCH
We are here to kickstart your journey towards going solar!
Eos